The opening of the exhibition of paintings by Janet Hagopian-Yapoudjian was held at the Hamazkayin Lucy Tutunjian Art Gallery on 27 September 2012, at 7:00 p.m., under the patronage of former Minister H.E. Maitre Jacques Tchoukhadarian.
"Իմ Ներշնչումներս Մարդիկն Են` Իրենց Բնաւորութեամբ, Կենցաղով Եւ Մտածելակերպով" ~ Ժանեթ Յակոբեան-Եափուճեան
The welcome speech was given by artist Missak Terzian, a member of the Art Gallery's committee, who spoke about Hagopian-Yapoudjian's artistic style and works. He also thanked MaitreTchoukhadarian for sponsoring the event.
In her speech, Hagopian-Yapoudjian expressed her gratitude for all those who contributed to organizing this exhibition. She added that through her paintings, she tries to communicate with art lovers.
The exhibition, which features 25 oil paintings of various sizes, runs until 13 October 2012, from 9:30 a.m. to 7:30 p.m.

For more photos from this exhibition, visit the
Flickr album
.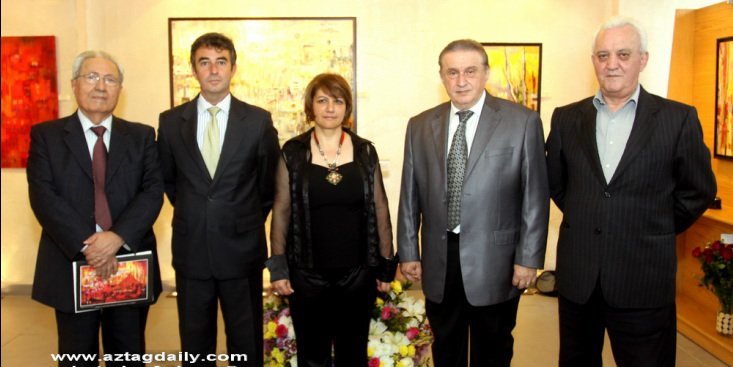 Warning
: A non-numeric value encountered in
/home/hamazkayin/public_html/artgallery/wp-content/plugins/weekly-class/classes/class.single.php
on line
321
May 19, 2011 @ 07:30